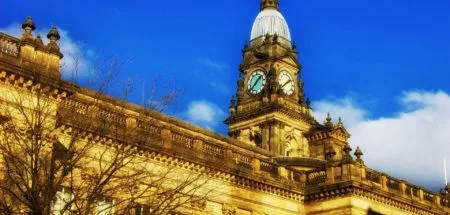 iC2 makes a problematic site safer for Bolton Council
Protecting the community and the environment with a technically elegant solution for a fly-tipping hotspot.
A crime that makes a victim of the whole community
Fly-tipping can be viewed as a victimless crime. However, besides the cost of clean-up, it is an anti-social activity which blights communities, undermines the quality of life and potentially brings health impacts from pollution of the environment. Ultimately, taxpayers end up footing the clean-up bill, with councils spending revenue that is sorely needed elsewhere to meet wider social needs.
More than just being a hotspot for illegal waste disposal, in some cases such areas can also attract other anti-social behaviour. Far from fly-tipping being a victimless crime, its effects are likely to knock-on to the entire community.
This characterises the situation that Bolton Council had endured for some years in managing the area around its Raikes Lane recycling centre. A difficult area to install services Raikes Lane runs approximately 500 metres from Burnden Road to a small industrial estate. The roadway runs through a wooded area and the River Croal is in close proximity, which it intersects and crosses towards the far end.
It is essentially a single lane road with passing laybys. A key issue is that it is a difficult area into which to install services because of the presence of subterranean gas pipes and a main sewer. As such, there is no street lighting and there is no mains power to run security infrastructure.
Industrial and domestic waste was being routinely fly-tipped several times each week. This included general household rubbish and white goods, as well as items like car parts, tyres and asbestos. Rubbish was dumped on the lane or thrown over the fence into the valley, posing a risk it could find its way into the river.
The problem was soaking up time and resources. Environmental enforcement officers would need to respond to reports and investigate to try to find evidence that could identify fly-tippers. Rubbish dumped on the lane also had to be cleaned up. However, clearing up the valley required rubbish to be removed from the bottom of a steep embankment, something that required specialist abseiling skills. The resulting clean-up costs put a significant strain on council resources.
Technically elegant low power and wireless solution
Andy Bolan, Environmental, Education and Enforcement Manager at Bolton Council invited iC2 to look at the problem. After carrying out the appropriate risk and privacy impact assessments, and considering the limitations of services, the iC2 team came up with a technically elegant solution.
To provide security the iC2 project team proposed siting three CCTV and lighting arrays, one at each end, and one in the middle of Raikes Lane. Using low power and wireless technologies the design overcame the limitations imposed by the lack of mains power and hard-wired connectivity.
Each array consists of three cameras, one 12 megapixel (MP) fish eye, providing 360 degree coverage, and two 5MP cameras to provide close-focus for identifying people, vehicles and number plates. LED flood and stop lamps provide deterrence as well as boosting performance of the cameras.
The custom-built camera and lighting arrays are based on iC2's innovative redeployable design. Network video recording ensures that images are stored remotely should there be attempts to vandalise or steal cameras.
An enviable Return-on-Investment
The results speak for themselves. The solution made an immediate impact. In the first month of operation there was no evidence or reports of fly-tipping in Raikes Lane.
The solution provides an enviable Return-on-Investment (ROI) for a small infrastructure project. When compared with the cost of regular clean-ups and the time and efforts of environmental and enforcement officers, Bolton Council's investment in the solution is repaid several times within one year.
Andy Bolan is very appreciative of the work of the iC2 team and the results the solution has produced. He says: "The cameras are simply fantastic. This was one of the biggest problems faced by Bolton Council over a number years. It was a significant drain on resources and was a real area of concern for the local community."
"The cameras and lighting now seem to have brought an end to illegal dumping and the environment should recover. We should see the return of a natural habitat for wildlife, and a pleasant place for walking. That can only be of value and benefit to the community," says Andy Bolan.
Beyond ROI, there is another value-add to the redeployable design on which the Raikes Lane camera and lighting arrays are based. The standard specification Rapid Deployment Camera (RDC) can be relocated quickly should there be a need to alter the siting of cameras in response to changes in fly-tipping behaviour.
"This is exemplary. It shows other local authorities how this technology can tackle a variety of anti-social behaviours. Even the most difficult and long-running problem locations can be secured to protect the environment and support a better quality of life for the community," Andy Bolan says.