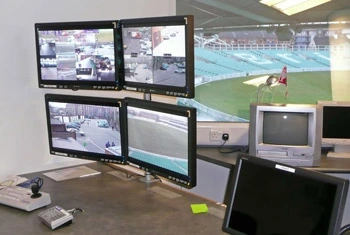 New cricket protectors for the Oval
iC2 CCTV a specialist installer of CCTV and access control systems has partnered Videalert, a video analytics company to install a new CCTV content analysis system at the Brit Oval.
The Brit Oval in South London is one of the world's most famous cricket grounds. Home to Surrey county cricket club, it has staged some of the sports most memorable test matches - including England winning the ashes in 2005.
As a world class sporting arena, located close to the centre of London, the Brit Oval ticks all the boxes in terms of being a potential high profile terrorist target.
iC2 have had a long association with the Oval, having supplied commercial security systems over a 10 year period. There are currently 54 cameras monitoring the Oval of which the majority are the latest pan, tilt and zoom, forward vision dome cameras.
As part of the upgrade, iC2 installed 16 way Videoswitch Vi series Digital Video Recorders (DVR's) connected through a cat 5 backbone infrastructure. Data is sent and received via Network Video Transmitters (NVT's) and viewed on new flat screen monitors. The DVR's have removable hard drives so the system can continue operating should the police request any footage.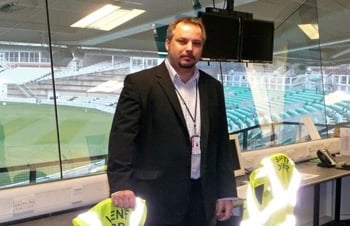 Scott Carey is the Oval's Senior Operations Manager and Security Officer. He first became aware of the emerging technology of video analytics after the Madrid bombings. He said: "I knew that a video content analysis system could help our existing security set up become more proactive so we trialled a competitor to Videalert last year. It failed to perform and lacked good support. iC2 then introduced the Videalert system and we really liked it. We use it for monitoring the main approaches to detect and alarm to any vehicles stopping on a red route or other restricted areas. We also use it to alert to abandoned objects, unattended packages overcrowding and various types of suspicious behaviour."
Scott continues: "I find the Videalert system very user friendly. It is easy to interact with and operators only need a limited amount of training. The analytics functions went live last year and it has enabled us to be more proactive in assessing potential threats. It is also important that we are seen to be at the forefront of the latest technology. We work very closely with the Metropolitan police and have shown it in operation to a number of the Met's borough commanders. We are very impressed with the systems capabilities and with the support and are looking to extend its use in the coming season."