Walsall Council CCTV room goes digital
iC2 CCTV, the London-based security specialist, has recently completed a contract with Walsall Borough Council to install a new state of the art CCTV control room and management system using technology supplied by 802 Global, a leader in IP network and HD CCTV management and wireless CCTV solutions.
iC2, in partnership with 802 Global, replaced Walsall's analogue system which had become outdated. According to the council, it required upgrading because of limitations in the number and type of cameras it was capable of supporting and because data required physical downloading onto tape. Image data on the analogue system was hard to access and did not offer the speed and flexibility of response that the council required in order to meet public safety expectations.
Walsall's new system utilises the highly proven and robust Omnicast platform from Genetec which has been deployed around the world. Omnicast has unique features making the upgrade from analogue to IP seamless. It supports the widest range of cameras on the market and so ensures flexibility and future-proofing.
This entirely digital solution is software-based and has inbuilt flexibility to allow Walsall to monitor, record and rapidly access images from all it's existing street and public safety cameras across the borough, as well as giving the future flexibility to add additional cameras to meet changing needs. The new system also affords Walsall the ability to receive, monitor and index large quantities of video data and enables operators to run intelligent queries and access detailed real-time event information.
Jon Burnett, Walsall's Surveillance Unit Manager said: "The new network-based solution has revolutionised the way we monitor, record and control. The control room was completely gutted and the old bank of 45 screens has been replaced by just twelve Panasonic - 42" plasma's and six – 22"screens that are all high-definition enabled and gives us huge recording capacity. The system also affords secure remote access which we can control and trace. This is a really clever system and has become a vital tool in meeting our public safety responsibilities."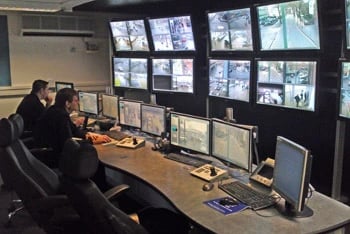 Councillor Garry Perry, chair of Safer Walsall Partnership, said: "This new technology represents a significant step forward in the work of the council and partner agencies towards tackling crime and anti-social behaviour."
"The new control room and the staff who work there have a vital role to play in helping us prevent and detect crime and I'm sure residents will feel reassured that we are doing everything we can to safeguard them. "
iC2's Managing Director Andrew Whelan said: "Digital solutions using a wireless IP network are the way forward. The technology available today is far superior to anything possible with analogue systems. Walsall is a great example just how powerful and flexible CCTV image management has become."